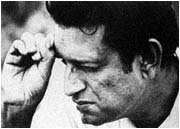 Satyajit Ray
"Bollywood Comes to the Hudson," a four-day film festival, celebrating a half-century of Indian film, will be presented by the Merchant and Ivory Foundation in association with Time & Space Limited in Hudson, NY on May 22-25, Memorial Day Weekend 2003.
Legendary directory Satyajit Ray's classic "Apu Trilogy" on 16 mm film and three contemporary Bollywood musicals will be screened. In addition, Ismail Merchant and James Ivory will host a wine and cheese reception for the public at TSL on May 24th, Saturday evening at 7pm. Following the reception, TSL will screen the Bollywood feature, "Kuch Kuch Hota Hai (Something is Happening)".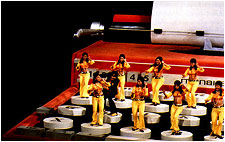 Helen: Queen of the Nautch Girls (1973)
The festival featurestwo nights of commentary by Ismail Merchant on the history of Indian cinema and his relationship to India's greatest director Satyajit Ray. Ray is "among the world's greatest directorys, living or dead," says James Ivory. Merchant will also discuss Bollywood musicals and the industry's recent success among American and British film audiences. On Sunday, May 25th at 5pm, Merchant and Ivory will host an opening reception showcasing the Bollywood inspired photography of Jonathan Torgovnik at the Red Mills in Claverack.
All festival proceeds benefit the Merchant and Ivory Foundation's support of filmmakers, screenwriters, photographers, and musicians, as well as Time & Space Limited's ongoing mission to support community growth through the arts with theatrical productions, film screenings, gallery exhibitions, discussion forums, and community outreach.
"Bollywood Comes to the Hudson: A Half-Century of Indian Film" on May 22-25 is presented in part by Merrill Lynch, Turner Classic Movies, Yash Raj Films, Mid Hudson Media, Grossman Weller Productions, and Kaz Inc.
Contact:
Nicole Meadors
518.822.8448
nicole@timeandspace.org
SCHEDULE of FILMS & EVENTS:
MAY 22
Thursday at 7pm at TSL
Part 1 Apu Trilogy: Pather Panchali
1955 - 115 mins. 16mm B&W
$5 / $7.50
MAY 23
Friday at 6pm at TSL
with Ismail Merchant in Person
Part 2 Apu Trilogy: Aparajico
1956 - 113 mins. 16mm B&W

Also screening "Helen: Queen of the Nautch Girls"
Merchant Ivory Productions 30 mins.
Discussion of Satyajit Ray by Ismail Merchant
$5/$7.50
MAY 24
Saturday at 4pm at TSL
Part 3 Apu Trilogy: The World of Apu
1959 - 106 mins. 16mm B&W
$5/$7.50
MAY 24
Saturday at 7pm at TSL
Wine and Cheese Reception with Merchant & Ivory
To be held at TSL followed by a screening of
Kuch Kuch Hota Hai (Something is Happening)
1998 - dir. Karan Johar - 177 mins.
$25 reception or $7.50/$10 film screening only
MAY 25
Sunday at 4pm at TSL
Saathiya
dir. Shaad Ali - 138 mins.
$5/$7.50
MAY 25
Sunday at 7pm at TSL
Mohabbatein (Love Stories)
2000 - dir. Aditya Chopra - 216 mins.
$5/$7.50
June 1
Sunday at 5pm at Red Mills
Photography Exhibition Opening
Merchant Ivory Foundation at the Red Mills in Claverack
Bollywood Dreams: Photographs by Jonathan Torgovnik