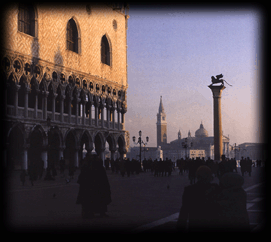 The Piazzetta, Venice, photographed by James Ivory in 1952.
Venice: Theme and Variations
1957/U.S., 28 Minutes
Ivory's initial effort as a filmmaker was Venice: Theme and Variations, a documentary made as his master's thesis at the USC film school that, although only 28 minutes long, is rich in composition and aesthetic texture. Picturesque buildings along the canals are mirrored in the undulating reflection of water below them; a figure in darkened bronze atop a bell tower strikes a huge bell with a long-handled hammer, tolling the hour; boatmen are observed on the lagoons in the bluish haze of dusk. These glimpses of present-day Venice alternate with passages in which the paintings Ivory has photographed accompanied by mood-setting music - from Gabrieli, Vivaldi, Monteverdi, and Chopin - present artists' views of Venice over centuries of time.
Opening sequences consist of the mosaics in St. Mark's and Gentile Bellini's depictions of early Venetians still firm in their faith; and of scenes from Carpaccio, of a lighter narrative line, which draw attention to the daily life being lived in the palazzi and squares of the old city. The changing milieu of Venice is then traced from the sixteenth century, when the city was an important center of wealth and trade, to the eighteenth, portrayed by Guardi and Longhi, when Venice had entered into an irrevocable decline. Ivory admits that it was the eighteenth century "that interested me most, Guardi and Longhi"; and it is a period certainly that offers an unusually rich sense of Venetian society, with its world of the theater, of carnival, and other diversions that give it a strong sense of atmosphere, place and moment. He brings the story of Venice up to our time, via Whistler, and concludes with the cartoonist Saul Steinberg's satirical drawings of today's Venice, with it's armies of tourists, competing tango orchestras in St. Mark's Square, and the ever-present boatmen, now mostly motorized.
Director: James Ivory.
Producer: James Ivory.
Script: James Ivory
Photography: James Ivory.
Editor: Stelios Roccos.
Narration: Alexander Scourby.